Name:
Gensho
Affiliation:
The Gensho clan originated in Kirigakure and spread to Kumogakure and Otogakure.
Symbol: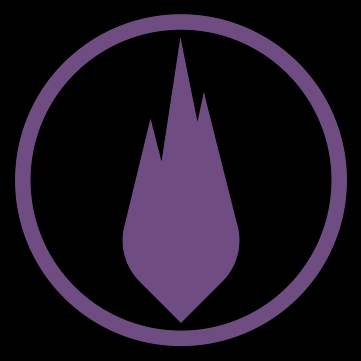 The Clan Symbol is only painted on the Gensho clan residences, however ninjas wear this symbol on their clothes:
Kekkei Genkai:
The Gensho clan's main property is their chakra and it is their primary use in battle used to execute jutsu and for other things unique to their clan. First things first, the Gensho clan possesses heightened chakra control and a large chakra reserve, however their physical strength leaves something to be desired. (+5 Chakra R&C D-Rank, +8 Chakra R&C C-Rank, +13 Chakra R&C B-Rank, +17 Chakra R&C Jounin, +25 Chakra R&C S-rank; -5 Strength D-Rank, -8 Strength C-Rank, -12 Strength B-Rank, -15 Strength A-Rank, -20 Strength S-Rank).
Gensho members also possess a secondary chakra reserve for using in an emergency. This reserve is especially useful when fighting somebody with a chakra leeching or draining ability as the secondary reserve is immune to this until the user's primary chakra reserve is depleted. The secondary reserve has half the amount of chakra as the primary reserve, however, and slowly depletes. (So to calculate how much chakra you have in your secondary reserve you would use this equation: (c + r) / 2. In this, c stands for Chakra and r stands for how much extra chakra you get in your reserve due to your rank. So a Genin who put a 30 in their chakra stat would use this: ( 30 + 8 ) / 2. In other words, 19 (30 + 8 = 38 / 2 = 19). So their primary reserve has 38 and their secondary has a stat of 19.)
The main feature of the Gensho's chakra is their ability to physically manifest it to make shields. They are not able to use it to attack but only in defense. The chakra manifests itself as purple energy (Hense the symbol: A shield made of their chakra). The chakra will burn anybody who touches it and weakens jutsu that hits it. It is slightly solid so if a ninja wants to proceed with their physical attack despite the burns it will be weakened (They'd need a strength stat of at least 3/4 of the user's chakra control stat. So if the user had a chakra control stat of 44 the attacker would need a strength stat of at least 33 to hit their opponent, assuming the defender doesn't dodge.)
Jutsu
Spoiler:
Quantity:
The clan started out large but has slowly died down throughout time, falling victim to assassins, kekkei genkai harvesters, and other dangers. Kirigakure has 6 recorded Gensho and Kumogakure and Otogakure have 3 recorded Gensho.
Distinct Features
Members of the Gensho clan all have dark purple eyes resembling the color of their chakra. Their hair is generally dark colors and their skin is pale to hazel colored. Members of the clan generally have the symbol on the back of their shirt or tattooed somewhere on their body.
Traditions:
In the past he Gensho clan saw themselves as better then other ninjas. Throughout time, though, only the clan elders and a handful of others retain this viewpoint, and this information is often taught to young Gensho members, resulting in them becoming arrogant. These teachings are often rejected by members of the Gensho clan, however, and to this day only a handful of Gensho members still believe this.
The Gensho clan symbol is painted on doors, and represents a shield around their place of residence. Clan graduates wear the other symbol on their back which represents a shield around an individual.
History:
The Gensho clan originated in Kirigakure many centuries ago. They were the primary fighting force in a minor war against another clan, the Murosaki, and after 10 years finally defeated and wiped out the Murosaki. However during the war many Gensho clan members were killed and afterwards only a handful still existed. Most of the remaining Gensho members stayed in Kirigakure, but a handful of them left to Kumogakure where the tall mountains would provide a good defense against their enemies.
In the century that passed the Gensho members have fought in many wars and many have died. To this day only a small number have been indentified. The Gensho clan is slowly rebuilding its numbers, becoming stronger and stronger throughout the years. They have produced a number of talented shinobi and are highly valued by the basic 4-man squad.